A Look At Using 3D Pens In The Classroom – Guest Post from Martha Slack
This guest post from Martha Slack (@slackmartha) first appeared on Edudemic.
The recent 3D printing explosion on the educational market has left many educators wondering how they can afford to integrate this technology into the classroom. Most schools do not have the luxury of purchasing a 3D printer but still want to provide the experience for their students. 3D pens made their debut on Kickstarter this year as an affordable 3D printing option. After the initial investment of the pens, they are an incredibly affordable tool for classrooms. The pens allow students to illustrate – in 3D – concepts in math, history, art, design, and chemistry, giving them a tangible means to explore complex ideas.
The pens work as a manual operating 3D printer. Heated filament is extruded through the pen's tip, which quickly cools down to form a stable 3D structure. It actually adopts the same FDM technology which powers mainstream desktop 3D printers. The human ergonomic design allows students to draw an infinite variety of shapes and items, on both the 2D plane and within 3D free space.
Math: With the use of a 3D pen, geometry student can draw geometric designs and then construct their own forms.
Architectural/Historical Drawings: When researching important historical monuments, students can recreate the structures for presentations. Creating architectural drawings also incorporates mathematical skills – geometry, spatial orientation and measurement.
Sculptures and 3D Drawings: Teachers often ask students to create artistic, visual representations for projects. 3D pens can be an exciting artistic medium for any type of classroom. Art classes can use these pens to teach contour line, gesture drawing, expressive line, and a variety of sculptural techniques. Instead of folding paper for origami, students can trace geometric shapes and construct the origami design.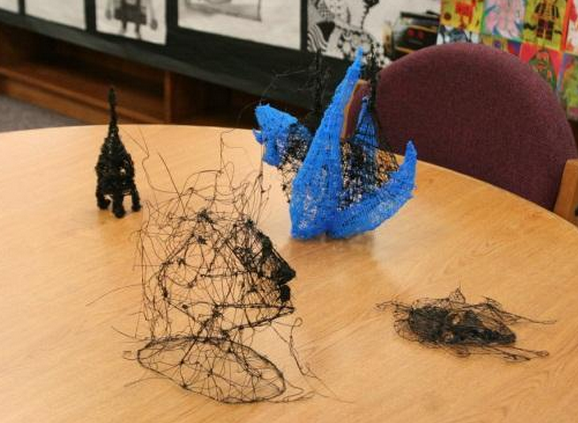 Product Design: Students can make jewelry by tracing 2D designs or drawing directly into the air. Earrings, necklaces and decorative pieces for headbands have all been created in my classroom.
Science: I was recently in a chemistry room and saw mobiles of atomic molecules hanging from the ceiling. When I saw these projects, I immediately thought about 3D pens. Students could use the 3D pens to create thematic classroom displays that are light-weight and easily hung from the ceiling.
I have seen the most disinterested and disengaged students come alive with the opportunity to try new technology. They are often bored with traditional classroom materials and are desperate for cutting-edge mediums and tools that they see on the internet. The modern technology of 3D pens integrates and blends math, science and art in a user-friendly, efficient and visually appealing way.
My list of ways to incorporate 3D Pens in the classroom:
Perfect addition to any makerspace or 3D printing classroom
A tool for creating models and prototypes for atoms/ molecules and other scientific projects
Teaching basic geometric concepts through shape and form construction
Problem solving and critical thinking exercises
Teaching balance, gravity, and other concepts in physics
Prototype and product design entrepreneurial assignments
A creative medium for choice-based projects
Great for teaching expressive line with contour and cross contour drawings
Geometric sculptures
Architectural drawings
Mixed media art work
Jewelry making
A great medium for transitioning from 2D to 3D
Creative tool for all sculpture-based art rooms
Experimental and thematic projects
Affordable replacement for wire sculptures
Martha Slack  (@slackmartha)